Toolboxes have their uses, but they aren't necessarily the most practical solution, like the best tool bag, if you plan to carry your equipment regularly. They can be lacking in organizational options.
This is where the tool bags come into play. Their flexible sides let them contain a variety of tool sizes. Thanks to padded handles, shoulder straps, and even rolling wheels, they're mobile enough to transport from room to room for DIY jobs, out to the car, or around a job site. Furthermore, they are normally constructed with various exterior pockets, making it easy to retrieve your often used equipment.
In this article, we examined six of the top tool bags to help you choose the best tool bag that organizes your tool arsenal. We've also incorporated a buying guide so that you become a more informed consumer while searching for the best tool bags. Lastly, we answered some of the FAQs about these bags.
Let's dive right in!
7 Best Tool Bags Reviewed – Our Top Picks
Any professional worker and individuals who do little DIY projects understand the necessity of choosing the best tool bag to keep their hardware safe, secured, organized, and easily accessible when needed. Although many traditional bags or inexpensive bags can hold various tools and gadgets, they may not withstand everyday wear and tear for professional usage. Also, lugging them about can cause back pain if they are not well designed.
Don't worry. Here we have brought you the finest tool bags; each consists of its own distinction based on its unique capabilities.
The compact design of the WORKPRO Top Wide Mouth Tool Bag is built to last, putting up with harsh conditions. It comprises 600D polyester fabric with exquisite high-quality stitching, making this tool bag with wide mouth opening incredibly strong and durable.
This tool bag features padded handles and an adjustable shoulder strap for when you need to go hands-free. The handle and adjustable strap are durable enough to hold multiple tools without breaking.
This bag has a waterproof molded bottom with rubber foam. So, even if you leave the bag on moist ground, your tools will be safe. This bag also has a wide mouth opening design with a metal frame (helps to prevent sagging) and a double-pull zipper. It enables easy organizing of many tools, quick access to the essential ones, and protection from elements like rain and dust.
This tool bag has eight pockets inside. There are also 13 external pockets and 8 tool belts to provide extra storage space for the small tools you need to quickly access. The 8 belts are particularly useful, as they save time spent looking through your tool backpack. Many users say the exterior pockets offer ample room for pliers, screwdrivers, tape measures, wrenches, and other accessories.
The bag is available in blue and black and is suitable for indoor and outdoor use.
Pros
Easy-to-carry with an adjustable shoulder strap and suitable for daily use
Exquisite craftsmanship with 600D polyester and durable stitching
A compact bag at an affordable price
Protecting your gear with an internal metal frame and a pair of pull zipper
Easy access to tools due to wide open mouth
Waterproof plastic bottom and vast storage options to keep your tools organized
Cons
Too small for bigger tools
This McGuire-Nicholas open-top box shape tool bag has divided pockets so you can organize your tools and save time rummaging. The open central storage section makes it easy to access tools without having to unzip the bag.
The outside has 14 different slots for your smaller tools and accessories. Although not the market's largest or flashiest tool bag, it will readily fit numerous larger power tools and accessories. Thanks to the strengthened and waterproof bottom, your tools will stay dry and safe, whether it's dusty or rainy.
There are no pockets inside. However, there is a fixed loop stitching along the sides for screwdrivers or wenches.
This bag's ingenious handle is our favorite feature. Unlike many other bags, this one has a tubular steel handle that can sustain the weight of various heavy power tools without buckling or bending. The McGuire-Nicholas Collapsible Tote's lightweight design makes it excellent for long-term use.
Pros
Waterproof features with heavy-duty fabric to keep your tools safe
Plenty of space for a wide range of tools at an affordable price
Easy access to tools because of the open and spacious design
Lightweight bag but sturdy and durable build
Easy to organize tools due to multiple interior pockets and exterior pockets
Cons
Anyone who has worked in a workshop knows DEWALT. This company has a reputation for delivering high-performance tools, which are legendary. They've apparently branched out into tool bags.
This DEWALT DG5542 Tradesman's Tool Bag has 29 pockets, giving you thousands of alternatives for organizing your tools. There's also a heavy-duty flap covered pocket with a hook and loop.
The pop-open design of this bag provides ample space and effortless access to tools and parts.
Base pads protection at the bottom of this highly durable and heavy-duty poly fabric made bag is extraordinary. The 10-inch deep inside provides enough tool storage without being too heavy.
This tool bag also has an adjustable padded shoulder strap on the side for easy shoulder carrying.
Pros
29 pockets to easily organize and carry tools
Comfortable carrying with handles and padded shoulder strap
Offers easy access to tools
Reinforced base pads to protect the bottom from sharp tools
Heavy duty zippers with large tabs to withstand extreme use
Cons
Stitched joint point of the strap is weak
Amazon tends to stand out among the finest tool bags accessible online. This brand has given all other brands a run for their money. The Amazon Basics small tool bag measures 12 inches. It is an ideal size for keeping tools in an organized and portable manner.
This great tool bag includes 16 pockets, 9 of which are interior pockets and 7 outside. This incredible bag is excellent for use at the home, garage, work area, or job site.
The Amazon tool bag facilitates and encourages efficiency in your daily tasks. This bag has plenty of space for hand tools and other small to medium sized tools. Two smooth zippers allow for effortless opening and closing.
The exterior of this black and gray tool bag is composed of 600D Oxford cloth. The inside of this small bag is made of tough 210D fabric. In addition, this bag has a wear-and-tear-resistant PE foundation, making it suitable for working conditions.
Strong silver metal D-rings, tough handles, and a shoulder strap ensure a comfortable carrying experience without the risk of breaking.
Pros
Plenty of pockets to store an extensive range of small to medium sized tools in one place
Two smooth and high quality zippers
Tear and wear resistant PE foundation to keep your tools and fragile items safe
Superior quality of build materials, making it durable and sturdy
Strong silver metal D-rings, tough handles, and a shoulder band for convenient and safe carrying
Cons
Fragile exterior pockets
Less space, not enough to carry large tools
This Klein Tools tool bag will protect your expensive gear. This pouch tool pack will be your best friend in the toughest operations.
The ability to resist flame is the most distinguishing attribute of this tool bag. It is constructed of flame-resistant No. 4 canvas fabric. It allows you to work in dangerous regions or weld without fear of damaging your equipment.
When you put your tools in this Klein Tools pouch belt, you know they're safe. It is NFPA-701 authorized. Therefore, you can expect excellence in these pouches in terms of performance and robustness. This bag is particularly ideal for firefighters who prefer to keep their tools close at hand.
This tool bag has a tunnel loop that can accommodate belts up to 3 inches (7.6 cm) wide. It has a double-bottom that is sewn and riveted for increased durability. Each side of this canvas bolt bag has a bull-pin loop.
Pros
Fire and water resistant
Meets the performance requirement of NFPA 701
Rugged, ergonomic design and a nice feature for comfort
Double bottom for durability and safety
Designed to withstand extreme environmental conditions
Cons
Not enough interior space for bulky tools
The CLC LeatherCraft Multi-Compartment Tool Carrier has plenty of compartments for all your tools, components, and gear. It's ideal for carpenters, plumbers, and electricians.
This custom LeatherCraft tool bag has a large core compartment for storing heavy tools and larger hand tools, plus two larger sections for additional tools and accessories. This tool carrier has a huge carabiner and a tape measure attachment on the exterior, so you'll never be without the correct gear.
This multi-purpose tool carrier also features heavy-duty vertical pockets for convenient access and seven outer pockets for quick access to tools.
This custom LeatherCraft bag is made of heavy-duty poly fabric with poly ballistic trim and binding. With a padded shoulder strap and padded handles, you'll be able to carry your tools with ease in this Custom LeatherCraft bag.
Pros
Large main compartment capable of carrying power tools
Heavy duty double pull zippers to keep your tools safe without any hassle
Durable stitching on strong poly fabric to ensure maximum durability
Vertical tool pockets offering instant access
Comfort in carrying with a padded adjustable strap and padded handles
Cons
This Carhartt tool bag is made of polyester and has 17 outer compartments and 10 internal pockets for plenty of storage space. An abrasion-resistant foundation and triple-stitched compartments provide for a long-lasting design that can withstand a variety of operating environments. It's also offered in brown or black, depending on your own taste.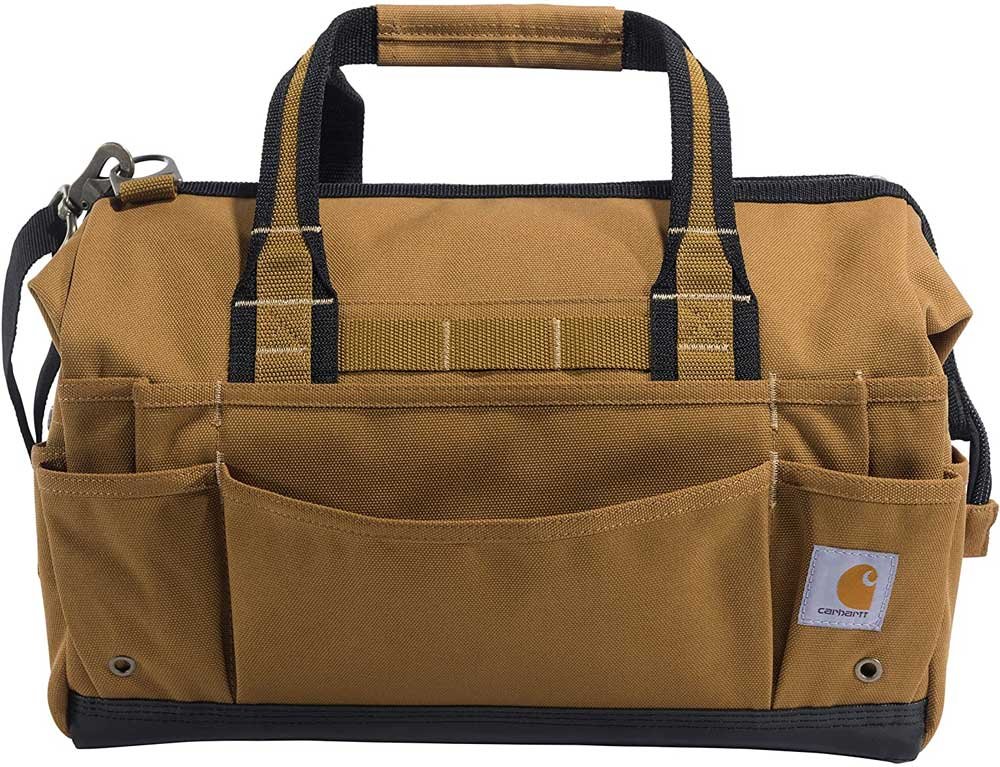 The product's strong metal framework and high-quality embroidery were praised in excellent feedback. A number of other happy buyers remarked on the bag's adequate storage for a variety of equipment.
YKK zippers, metal fasteners, and multiple needle-stitch manufacturing are all included in this bag's characteristics. An 11-pocket main compartment is accessible via the bag's YKK zippers, which open up the inside. With 23 outside compartments and loops, this tool bag can accommodate all of your equipment.
Despite the absence of cushioned bottom, this bag is made of durable materials and has been well-stitching. When it came to apparent scuffing in our drop test, the bags matched only with Milwaukee Contractor Bag, but it performed admirably in our scratching test, exhibiting no signs of marks.
There were also five instruments and 25 nails that fit well in this tool bag's various sections. We also appreciated the cushioned handle that let us take the equipment bag up three stories, considering the absence of a shoulder strap.
Pros:
10+17= 27 pockets
Durable Polyester fabric
Limited lifetime warranty
Cons:
Not a deal breaker, but can use a padded shoulder strap
Types of Tool Bags
Although the conventional tool carrying case has long been the reliable toolbox, today's handymen and women have stepped out and began to rely on tool bags instead.
It can be tough for a newbie to choose a tool bag among the many options of various sizes, styles, and different shapes available. Here are a few of the most common types of tool bags.
i. Standard Tool Bags
This bag appears to be ordinary, and most tool bags will likely be of this style. Instead of straps like backpack design, these bags have handles for carrying. They provide the optimum balance of comfort and carrying capacity.
Dickies 12-Inch Durable Canvas Work Bag from Dickies Work Gear is a great example.
ii. Duffel Tool Bags
A duffel tool bag is a way to go if you need to carry many tools or have a larger piece of equipment to transport. These large bags come in various sizes, but they all resemble a conventional duffel bag from the outside. They'll have two shorter and one longer carrying strap.
Look for a bag with reinforcements at the locations where the straps join. Pay attention to the zipper durability so that you can close the bag securely. Then look at the pockets; some have both interior pockets and exterior pockets. Others just have space dividers and multiple pockets on the inside.
G & F Products Government Issued Style Mechanics Heavy Duty Tool Bag (with brass zippers and side pockets for easy storage) is one of the finest duffel bags that satisfied customers.
iii. Bucket Tool Bags
A bucket tool bag can be a wonderful solution if you only require a few tools while working. These are great for linemen or construction workers. The bucket-style bag keeps your tools close at hand, so you don't have to stop working on getting them.
This bag has an open bucket shape with handles or an adjustable shoulder strap. The bucket also has multiple little pockets inside and out. The bottom is flat and composed of polypropylene. The bottom also has drainage holes.
A good example is Bucket BOSS Parachute Bag.
iv. Backpack Tool Bags
If you frequently travel with your tools, a backpack-style tool bag is useful and easy to carry hands-free. The two straps make carrying the bag easier. Look for shoulder straps with ample cushioning and extra support. The bag should also feature additional back support straps.
They feature more pockets than regular backpacks, with large open compartments offering enough space. Thus, you can keep your tools organized. When you open it, everything is visible and accessible.
v. Wheeled Tool Bags
This is a unique bag because most wheeled tool carriers are toolboxes. Some are made of the same soft material as tool bags.
A wheeled tool bag is one of the greatest options for people who use many power tools. It is movable and does not require the user to bear any weight. This bag style can handle practically any type of tool or power tool more easily than other models. You can simply roll this bag around carrying a ton of tools.
These bags are huge, with large main compartments. It is not advised for routine maintenance and repairs while constantly moving due to its large size.
Buying Guide for The Best Tool Bag
When deciding on a quality tool bag, consider how much and what type of storage you will require. Someone with a large collection of small tools, such as several little screwdrivers, nut drivers, bolts, nails, and wrenches, would prefer a tool bag or toolbox with several pockets and sections to keep the complete set organized.
However, if you only need to keep a few big tools, you can get away with a less organized tool bag model with a larger main compartment. Some high-end tool bags even come with two main compartments for better functionality. To be certain, check your present tools and equipment to ensure that they will fit in your bag and won't get lost.
There are quite a few factors for testing when acquiring a bag possible for you and your circumstances. Here are some considerations while purchasing the best tool bag for your needs.
Size
When purchasing a tool bag, consider the size of the bag to ensure that all your tools fit inside. It will be tough to fit all the tools in a bag that is too tiny. It may seem odd when a large tool bag is being carried for a tiny set of smaller items.
You will want all of your tools to comfortably fit inside one bag. Count all the tools you want to take in your bag and buy a bag accordingly. Remember that you'll accumulate more tools over time, so get a larger bag than you need now.
You should also first test the size of your tools to choose a tool bag that fits them. If you have larger items like a palm sander, large power tools, circular saw, cordless drill, or impact driver, you'll need a large bag. If you only need to carry smaller hand tools and smaller parts, you'll need a bag with additional pockets.
Construction
When we say construction, we certainly mean the tool bag's sturdiness. Is there a reinforced bottom panel, for example, on the tool bag?
Reinforced bottom panels keep tool bags robust while also preventing your tools from ripping themselves out of the bottom of the bag. The last thing you want is to drop and lose tools from the bottom of what you thought was a solid tool bag! Therefore, your second test should be about evaluating the construction.
There are also bags with top flaps that are metal-framed within the fabric. This allows the bag's lid to stay up and open, making it much easier to find and retrieve the tools you need at the time.
Material
When selecting a bag to store and sort out your tools, consider the bag's material. A merely stitched leather or heavy-duty nylon polyester tool bag is standard.
While the tool bag material is largely preferential, we suggest paying close attention to the bag's stitching. The stitching determines how well-made and long-lasting the bag is. The stitching also determines the weight of the tools that may be held inside the tool bag without ripping or tearing it. A few bags come with triple-needle stitching.
If you want heavy-duty stitching, choose a nylon fabric that has been properly sewn in all high-traffic locations. You should also check for stressed spots on the tool bag and patch them many times to avoid the nylon fabric ripping once the bag is full of tools.
Pockets
When purchasing a tool bag, consider the size of the pockets within. To find a bag with the optimal pocket sizes for your equipment, first, decide what tools you want to store and organize within.
If you want to keep longer handheld tools like chisels, screwdrivers, or hole punches, you'll need pockets that are smaller and closer together. To store larger tools like hammers, wrenches, or pliers, you'll need wider loops and pockets that can support more weight.
Choose a bag with adjustable elastic loops so you can simply attach accessories like knee pads, professional gloves, or safety equipment.
Design
When selecting a tool bag, another matter to consider is the design. Most tool bags are open, allowing uncomplicated access to the tools, but others are closed, preventing spillage if the bag is tipped over.
If you operate in a fast-paced setting, you want a tool bag that allows you to access your tools without opening them easily. This will save you time on the job site and make it less frustrating to get a new tool.
If you don't want your items pouring out, use a bag with a covered top. Even if the bag is flipped over, the tools will not flow out.
Zippers
A strong, long-lasting tool bag should have equally strong zippers or closures. Having a fantastic bag with cheap zippers can lead to these zippers breaking very easily when you are packing your tools.
This is both inconvenient and undermines our next waterproof feature. As a result, search for zippers and closures that will last a long time. You will be glad you did.
Weatherproof
Suppose you undertake work that requires you to be outside for an extended period. In that case, you should ensure that your tool bag is both waterproof and weatherproof.
Tools can be expensive – even extravagantly so in some cases – so you don't want the weather conditions to ruin them. Purchase a bag made with durable materials that is waterproof and weatherproof. You can be fairly confident that your supplies will be safe from the elements while you work outside.
Straps
When you're carrying a tool bag full of tools, you're likely to feel the strain on your shoulders. As a result, the straps of the bag are an important consideration in the selection process.
You should make sure that your bag offers straps that are wide enough to help distribute the weight on your shoulders and padded shoulder straps for added comfort. Some other tool bags include a modifiable shoulder strap, which may be a great option in the case of portability.
Feet or Wheels
Many varieties of tool bags have wheels attached to the bottom instead of the standard rigid plastic feet. This is convenient because it makes transporting the bag easier, especially if it is heavy.
On the other hand, wheels also have health benefits for you because they eliminate the stress from carrying the weight of a full tool bag on your back or shoulders, hence preventing any back/shoulder pain issues.
Handles
If the tool bag you want includes wheels rather than plastic feet, bag carrying handles may be crucial to you. Some bags have retractable padded handles, similar to wheeled luggage used for travel. This is perfect if you prefer to wheel the bag rather than carry it.
For added convenience, several bags have reinforced handles that may be changed to your height. This is called a telescoping handle.
Attachments
Most tool bags include a range of attachment options for attaching goods to them. These can include d-rings, buckles, hooks, and clips, which are useful for a few tools. Check their stability as well.
Some bags come with unique features, such as an attached LED light to safely work in the dark.
Price
If you've been looking at tool bags to store your tools, you've probably noticed that some of them can be quite pricey. Before you even start looking for the ideal tool bag for your tools, you should create a budget to make sure that you find the right bag that is affordable and within your price range. For example, if you want a bag from the Veto Pro Pac series, you'll surely need to shell out more money.
A proper budget will help you find the right bag for your tools by eliminating all the products that are out of your price range. This will help you narrow down your options, save your money, and find a bag that is affordable, high-quality, and ideal for your needs.
Warranty
As with any purchase, search for a tool bag that includes a warranty. A warranty protects the buyer and ensures that your bag is free of manufacturing flaws. Tool bags are often covered by a one-year, two-year, five-year, or lifetime guarantee for constant wear.
We suggest that you shop for tool bags with the longest warranties. The longer the warranty, the more time you'll have to test the bag and ensure that there are no manufacturing flaws before your product's guarantee expires.
An extended warranty is also a good sign because it shows that the manufacturer stands behind its bags by offering a longer warranty.
Tool Bag Maintenance Tips
Warm water cleans better because it removes more dirt and filth from the body of your tool bag.
Use soap and avoid detergents and bleach when cleaning your bag.
Soaking the bag fully dampens the stains, making washing it easier.
Always wash with warm soapy water, and afterward, rinse with clear water.
Do not use additional cleaners like dry cleaning fluids or lacquer solvents.
Scrubbing the bag will help remove the soiling agent from the embossed surfaces. Don't scrub it too hard, or you'll ruin the bag.
Using alternative scrubbers like steel wool will dull the surface of the bag.
The bag's material dictates the level of scrubbing because some materials should not be washed while others do.
After washing the bag with warm soapy water and medium scrubbing, rinse it with clear water several times.
After rinsing it properly, hang it to dry before using it again.
Final Thoughts
Our picks for the best tool bags on the market right now, tested and evaluated in the review above, will serve as a starting point for determining what constitutes an optimal tool bag. You should also think about the bag's brand and characteristics. Each of the bags listed above has its own set of features that will fit various people based on how they want to use the bag.
A tool bag should provide great value for money, have a durable and long-lasting structure, and have ample storage options for your tools and accessories. Furthermore, the bag should be lightweight and easy to carry the load along.
With the information provided in the reviews and the buying guide, we hope you will be able to find an awesome tool bag that meets your requirements and preference. For more information or feedback, please reach us through email (data rights reserved by our privacy policy).
Fill your tool bag with your favorite tools and have fun tinkering around!
FAQs
Are CLC tool bags good?
Ans: Yes. As the greatest overall tool bag, the CLC Custom LeatherCraft 1539 50-Pocket Multi-Compartment stands out. It provides unrivaled organization, security, and capacity for different jobs.
Are there water-resistant tool bags?
Ans: Most polyester and nylon tool bags will shed a lot of water before being drenched, but any tool bag can be treated with the right amount of water repellent to increase weather resistance.
How heavy is the average tool bag?
Ans: Tool bags often range in weight from one pound to seven or eight pounds. It depends on what you're looking for and how much space you require.
What are the benefits of a tool bag?
Ans: In many businesses, tool bag tends to be used to store and transport tools while also keeping them organized and accessible. They're made to keep tool kits stored safe, secure, and ready to use in general. Most bags come with straps and handles featuring padding for carrying the tools efficiently.
What is a good tool bag?
Ans: WORKPRO 16-inch Wide Mouth Tool Bag.
What is the best bag for power tools?
Ans: CLC Custom LeatherCraft 1539 Multi-Compartment 50 Pocket Tool Bag is recommended by professionals.
What is the ideal size for a tool bag?
Ans: The optimal tool bag size is determined by the intended application. A 14 or 16 inch bag will suffice for smaller hand tools and a drill. A larger tool bag in the 20-inch range could be appropriate for heavier power tools.
Where are Carhartt Legacy Tool Bags made?
Ans: The Carhartt Legacy Tool Bag is made in China.